Membership The Fairbairn House needs you. We have changed from being a co-operative to a non-profit corporation, meaning we need to re-structure our membership format.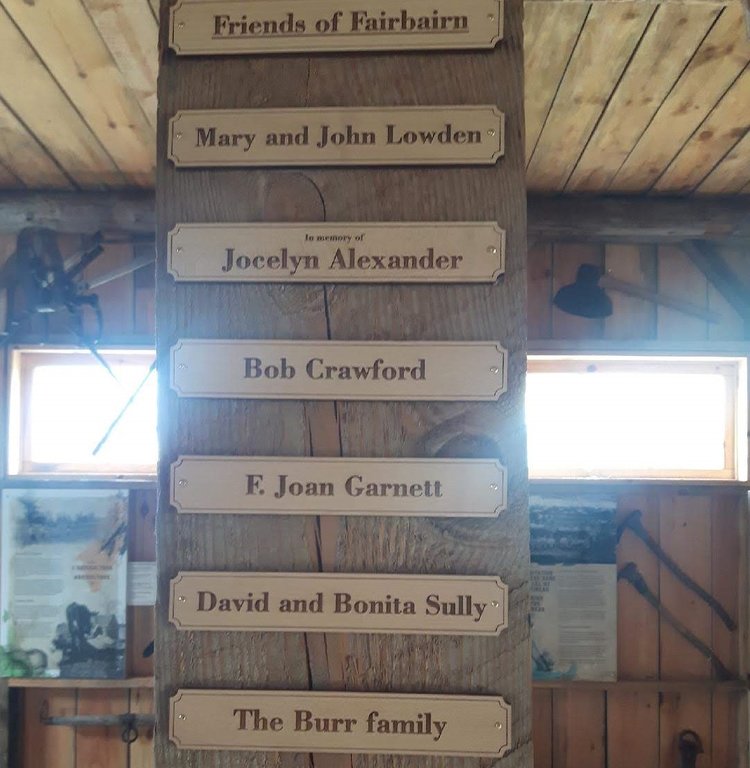 PURCHASE A COMMEMORATIVE PLAQUE ($50)
The posts in our Heritage barn display the names of various supporters who have contributed to help us 'keep the lights on' at Fairbairn House.
Complete the online form and add your name or remember a loved one with a beautiful handcrafted wooden plaque.
Financial Donations Currently, Fairbairn House relies on income from donations, sponsorships, and project grants. We are grateful to the many Friends who have given both time and money.
Cheques can be made out to the Municipality of La Pêche (indicate Fairbairn House on the memo line).
Our generous donors are recorded in the Builder's Book, on permanent display in the Heritage Centre.
Donation of Objects If you have something that you think might be of interest to us, drop us a line explaining what you have, where it came from and who it was used by. Please attach a photograph if possible.
Our artifact collection is limited to items already on display or for future displays. We look for unique items in good condition, relating to agriculture, logging history, domestic and family life, and railway mementos. We also collect small and safe items for children to play with and use. These may be included in traveling kits going to local elementary schools.
Volunteer Volunteers help make the Fairbairn House Heritage Centre a reality - they are essential for us to reach our goal! The Heritage Centre team is looking for help in all areas of the project. For example, individuals, businesses and organizations can help with: Planning, special events, communications, sponsoring an event, funding a drive, construction, community outreach, regional involvement, programming, exhibits, gardening, activities for children and youths, and business opportunities.